Art Talk
These mosaics are small parts to "The Tiny Kingdom" Marc Archambault is creating for the Campostella Southside STEM Academy in Norfolk, VA. This will be one of the first installations of his project that includes designing and installing 6 natural stone mosaics at 5 schools.
There will be 7 (approx. 33 inch) panels surrounding two children exploring nature with magnifying glasses and sketchbooks. Installation is planned for the summer of 2018 on the main hallway front entrance wall to the school.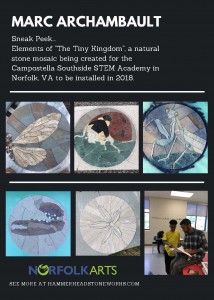 Read more about the artist:
http://www.hammerheadstoneworks.com/news
SEE A MAP  of places to go to see visual arts in Norfolk, VA every day!
Offsite Gallery  at the World Trade Center, 101 W. Main St., 1st Floor- rotating exhibitions, hrs: M- Saturdays 8:30am-5:30pm (Sundays see security)
James Wise Gallery  at Norfolk State University – 700 Park Ave. 
Hermitage Museum -  7637 North Shore Rd.
Gallery 410 - 513 W. 31st St.
Zeke's Beans & Bowls rotating art exhibitions- 800 Granby St
Pinots Palette - 240 W. 21st. St.
Commonwealth Tattoo Gallery - 4 Granby St Suite B
Tidewater Turners - 5802 E Virginia Beach Blvd.
Selden Market  @ the Selden Arcade, 208 E. Main St.
Muse Writers Center - 2200 Colonial Ave, Ste 3
Riverview Village Days (every 2nd & 4th Sunday) 11am-4pm  (April – December) -
Norfolk Drawing Group  – Tuesdays at 7pm – meets at Hamm Fine Arts Building, Norfolk State University.  $7, no materials are provided.  Students with proper ID receive a discount
757 Maker Space  421 W. 22nd St. – 757 Maker Space has regular opportunities for teens and adults to come and create with them all the time.
 d'Art Center – 740 Duke St.
Corner Gallery - 4400 Colley Ave.
Fuzion Ink - 729 Granby St. in the NEON District
Hunter House Victorian Museum - 240 W. Freemason St.
Norfolk Botanical Garden - 6700 Azalea Garden Rd. - Connect with the NBG Adult Education Page to see additional classes and opportunities.
Hermitage Museum |- 7637 North Shore Rd.
Tidewater Arts Outreach - 809 Brandon Ave. Ste. 300
The Muse Comic Classes – 2200 Colonial Ave. Ste. #3 – offering TWO classes for writers and artists
Starving Artists Café - 4408 Colley Ave.
Commune - Granby St.
Alchemy Underground - 712 E. 25th St.
Baron and Ellin Gordon Art Gallery @ ODU – 4509 Monarch Way
Prince Ink - 433 Granby St.
Hunter House Victorian Museum Friday Fall Lecture Series 11am - 240 W Freemason St
Ocean View Arts  – 209 W. Ocean View Ave. Suite 201
Stockley Garden Art Festival For almost 30 years, Hope House Foundation has been the vision behind the Stockley Gardens Arts Festival. And now, the free event is a community tradition, drawing more than 50,000 visitors annually.
Riverview Village Days (every 2nd & 4th Sunday) 11am-4pm (April – December)
Hermitage Museum Mysteries of the Museum - 7637 North Shore Rd.
Dragonfly Art Studio  - 1703 Colley Avenue
Wild Card Books & Art - 2414 Colonial Ave.
Hunter House Victorian Museum -240 W Freemason St
Chrysler Museum - 1 Memorial Place
d'Art at Duke – 740 Duke St. -  over 20 resident artists!  Be sure to check their class schedule and join them for monthly art nights and artist talks.  Late nights are Thursdays.
Connect with AIGA Hampton Roads , an amazing group of local creatives.
Borjo Coffeehouse - 4416 Monarch Way  has local art on display.
Glen McClure Photography Studio - 117 W. City Hall Ave. Suite 100
Norfolk Growler Company - 420 W. 24th St.
757 Maker Space  – 421 W. 22nd St. - regular opportunities for teens and adults!
Analogue Arts & Trade - 619 Colonial Ave.
Chrysler Museum  Free and open to the public Tuesday-Sunday. Enjoy a guided tour every day at 2 p.m. Boasts a world renowned collection of painting, sculpture and glass. See all Chrysler Museum October events here!
The Chrysler Museum also hosts Historic Houses: Weekend Talks and Tours Enjoy a FREE talk and tour at the Moses Myers House at 1 p.m. and the Willoughby-Baylor House at 2 p.m (see links below).
Moses Myers House, 323 E. Freemason St. Guided House Talk with the Chrysler Museum | Weekends at 1 p.m. Ongoing exhibitions at the ca. 1792 home include Adeline's Portal, a conceptual art installation by Beth Lipman inspired by a 19th century resident of the home. Other exhibitions include Moses Myers: Maritime Merchant, and Barton Myers: Norfolk Visionary.
Willoughby-Baylor House, 601 E. Freemason St. Guided House Talk with the Chrysler Museum | Weekends at 2 p.m. This historic house, built in 1794, features two exhibitions:  New Deal Near Here: Depression-Era Photography from the Chrysler Museum A vivid collection of images taken by Farm Security Administration photographers working in coastal Virginia.
The Norfolk Rooms Celebrate our port city's rich history of creativity and cultural achievements through a selection of paintings, sculpture, furniture, silver, and more.
Neil Britton Gallery at Va. Wesleyan
Lin Lin Studio 9569 Shore Drive (Located in the East Beach Shoppes across from East Beach estates).
35th Street Art Gallery  - 617 35th St.
Quixotic Arts - 3824 Granby St.
Titustown Recreation and Visual Arts Center, Paul Street Gallery - 7545 Diven St.
Gallery 21 - 115 W. 21st Street
Village Mermaid  – 3900 Granby St.
Kennedy Gallery at One Eleven  - Pennsylvania Ave.
Thank You Gallery - 450 W. 24th St.
Fawn Street Studios - 2501 Fawn Street
HIVE Gallery - 814 Granby St. in the NEON District
Local Heroes  - 1905 Colonial Ave.
Governor's School For The Arts Origin Art Gallery at MacArthur Mall
Work Program Architect's Gallery in the Monticello Arcade – 208 E. Plume Street
The Art Works Gallery & Frame Shop  321 W. Bute St. – In Norfolk's Freemason Harbor Since 1979

Harbor Gallery - 1508 Colley Ave
Bernsteins Gallery - 4400 Colley Ave.
The Gallery at East Beach - 9559 Shore Drive
Norfolk Collegiate Meredith Center for the Arts - 7336 Granby St.
Norfolk Academy Perrel Art Gallery - 1585 Wesleyan Dr.
Macarthur Memorial - 198 Bank St.
Teens With a Purpose – Onley Rd.
Hunter House Victorian Museum - 240 W. Freemason
Bridget's - 1911 Colley Ave.
Kitsch - Shirley Ave.
The Yard A fresh blend of new and vintage decor, furnishings and gifts. The Yard features the work of several local artists
A Latte' Café 321 Granby St.
Elliot's Fairgrounds 806 Baldwin Ave.
Texture 806 Baldwin Ave.
Blue Dog Smoke Shop 802 Granby St.
Stella's  1907 Colonial Ave
Werrell Woodworks 208 E. Main St.
Food, Clothing, Shelter 208 E. Main St.
Werther Leather Goods 208 E. Main St.
Mrs. Pinkadot 1914 Granby St.
Mermaid Factory 919 W 21st St Ste A
All Out Tattoo 1540 Azalea Garden Road
Art Connection Hampton Roads connecting artists and organizations.
Pinots Palette 240 W. 21st St.
Otzi Tatoo 1130 Bossevain Ave.
Color Me Mine  1300 Colley Ave.
The Mermaid Factory 919 W. 21st St.
Sway Creative Labs 211 W. Freemason
The Bees Knees - 617 Colonial Ave.
Spruce Home + Design - 243 W. Bute St.
The Leather Arts Store - 415 N. Military Hwy. Ste. 13
L'Abielle - 336 W. 21st St.
Tidewater Art Alliance - watch for members exhibitions around town and join!
CBAA Ocean View Art Show  100 W. Ocean View Ave.  – The Ocean View Art Show will turn 58 in 2018. It's Virginia's oldest and largest artist run, art show.  Spend two days enjoying art, entertainment, food, and fun. Watch a video! (and join the group)
Anytime:  Public Art Ride - Grab your bicycle and take a self-guided tour around town.   You can download a map of places to go. Here are the best routes to bike in general in Norfolk.  Be sure to ride by our Offsite Gallery in the World Trade Center while your out.  Ask the security guard at the front desk to let you in or just ride by and you'll see most of the current exhibit through the front windows!
If you would like to have your visual art event or establishment listed, send information to artsnorfolk@gmail.com or post it to the Norfolk Visual Arts Month Facebook Page.
4 fun ways to celebrate Visual Arts Every October:
National Arts and Humanities Month!
International Artists Day! October 25th
WATCH a video & learn what got the celebration started!  Formerly, a week long celebration, we now recognize the entire month of October as a time to celebrate visual arts in Norfolk, VA!
Keara Wilson was raised in the Norview neighborhood in Norfolk, VA and employed by the City's Emerging Leaders Program with Norfolk Arts for three summers.  She worked along side lead artists Barbara Kobylinska, Diana Caramat, Juan Jimenez, Mariella Haga and Mark Wroblewski.  Mark used Keara's fathers image on the mural she helped him paint for the Norfolk Animal Care Facility.  One of Keara's photographs was selected and featured on an Adams Billboard in Hampton Roads in 2016 as part of a joint program with Art Pop and Norfolk Arts.  The Animal Care Center mural and Keara's billboard are pictured below along with some images of Keara during her employment as a Norfolk Emerging Leader.
Keara is graduating from the Corcoran in 2018.  She is instructing a middle school photography class and continuing to pursue her already successful photography career!  If you're in the DC area April - May, be sure to stop in and see her work in this graduate exhibit:
Congratulations @kearawilsonphotography!
https://www.eventbrite.com/e/next-opening-reception-tickets-41833950472?aff=erelexpmlt
Artist Joshua Wiener of Boulder Colorado has been selected to create public art in the triangular median West of the existing round-about on Lafayette Boulevard at the entrance to Fairmount Park.  The artwork created of 5 6'6″ limestone sculptures will take on the form of a trolley car to represent  people coming together.  Changing LED lights will enhance the project at night.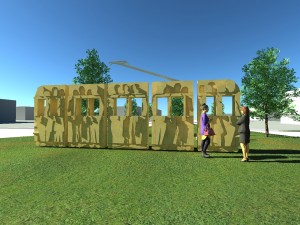 "Every Wednesday night in Olde Towne, a group of artists and academics gathers to discuss topics like politics, travel and cooking.
The meetings are in the style of the salons once held in Paris by Gertrude Stein — hence the group's nickname, "The Gertrude Group."
https://pilotonline.com/news/local/portsmouth-group-named-after-gertrude-stein-talks-art-politics-and/article_e1c3fa2a-af9a-5344-b7c1-ecf9379eba06.html
Visual artist, D. Hill, is a trans man breaking down the barriers of gender through art and self-expression:
The LGBT Center had the chance to talk with D. about TRAN(S)junction (past Offsite Gallery exhibition 2018), his life, his art, as well as his struggles.
https://lgbtlifecenter.org/blog/an-interview-with-trans-artist-d-hill/
Doodle on..
https://www.inc.com/natalie-nixon/7-ways-that-doodling-will-change-your-life.html?platform=hootsuite