Art Talk
Nancy Bruce is a mixed media artist inspired by the environment.  She manipulates discarded objects to form unique textures and distinct angles on 2-dimensional surfaces.
Exhibition on view through June 15, 2018. Gallery hrs: M-Saturday 8:30am-5:30pm, Sundays see security for entry.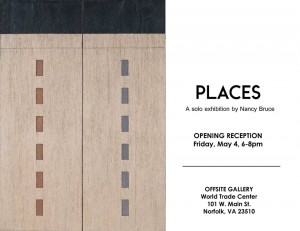 http://nancybruceartist.com/about.html
Download the PDF: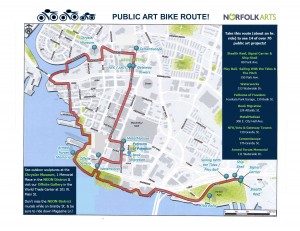 Congratulations to Billboard artists: Mensah Bey, David Johnson, Susan Tolbert, Matt Parker and Clayton Singleton. Happy to be partnering for our third year with ArtPop & Adams Outdoor Advertising Norfolk! Their artwork should be installed by May 11th on a billboard near you!
See photos and locations here:
https://www.facebook.com/pg/ArtsNorfolk/photos/?tab=album&album_id=2015138792076776
These mosaics are small parts to "The Tiny Kingdom" Marc Archambault is creating for the Campostella Southside STEM Academy in Norfolk, VA. This will be one of the first installations of his project that includes designing and installing 6 natural stone mosaics at 5 schools.
There will be 7 (approx. 33 inch) panels surrounding two children exploring nature with magnifying glasses and sketchbooks. Installation is planned for the summer of 2018 on the main hallway front entrance wall to the school.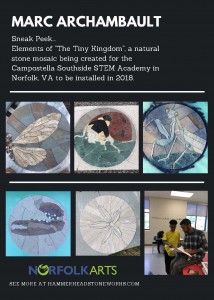 Read more about the artist:
http://www.hammerheadstoneworks.com/news
Keara Wilson was raised in the Norview neighborhood in Norfolk, VA and employed by the City's Emerging Leaders Program with Norfolk Arts for three summers.  She worked along side lead artists Barbara Kobylinska, Diana Caramat, Juan Jimenez, Mariella Haga and Mark Wroblewski.  Mark used Keara's fathers image on the mural she helped him paint for the Norfolk Animal Care Facility.  One of Keara's photographs was selected and featured on an Adams Billboard in Hampton Roads in 2016 as part of a joint program with Art Pop and Norfolk Arts.  The Animal Care Center mural and Keara's billboard are pictured below along with some images of Keara during her employment as a Norfolk Emerging Leader.
Keara is graduating from the Corcoran in 2018.  She is instructing a middle school photography class and continuing to pursue her already successful photography career!  If you're in the DC area April - May, be sure to stop in and see her work in this graduate exhibit:
Congratulations @kearawilsonphotography!
https://www.eventbrite.com/e/next-opening-reception-tickets-41833950472?aff=erelexpmlt
Artist Joshua Wiener of Boulder Colorado has been selected to create public art in the triangular median West of the existing round-about on Lafayette Boulevard at the entrance to Fairmount Park.  The artwork created of 5 6'6″ limestone sculptures will take on the form of a trolley car to represent  people coming together.  Changing LED lights will enhance the project at night.
Visual artist, D. Hill, is a trans man breaking down the barriers of gender through art and self-expression:
The LGBT Center had the chance to talk with D. about TRAN(S)junction (past Offsite Gallery exhibition 2018), his life, his art, as well as his struggles.
https://lgbtlifecenter.org/blog/an-interview-with-trans-artist-d-hill/