Art Talk
http://www.roanoke.com/life/travel/the-artful-new-energy-of-norfolk/article_37ecbf8c-dd3a-599f-aa0f-c9b51df5661b.html
https://www.flickr.com/photos/seldenarcadegallery/albums/72157660121801969
Installed May 19, 2016
Located at the Norfolk Botanical Garden
"Intertwine" is a 20′ tall stainless steel sculpture by Mark Grieve & Ilana Spector of  Petaluma, CA.  It is comprised of three entwined common garden forms arranged in a  contemporary, joyous composition.  A familiar common tool shape ties together the many themes of Norfolk Botanical Garden – the seasons, botany, community, pruning, planting & a connection to the land, history & men & women of the WPA.  Organic forms connect in an illogical order harmonizing the garden site creating a conceptual intersection related to the man-made & natural rhythms of the garden.
Mark Grieve stated "A successful artwork is a meeting point – an intersection of ideas – visually and intellectually.   By utilizing the "tools of the trade," the sculpture is a beacon attracting visitors and bringing attention to the wonders within the Botanical Garden."
http://www.markgrieve.com/MarkSite/WELCOME.html
The dedication event occured prior to the 8th Annual Garden Heritage Celebration at the WPA  Memorial honoring 220 African-American women & men who planted  the Garden more than 75 years ago through the Works Progress Administration.
See progress photos here: https://www.flickr.com/photos/seldenarcadegallery/albums/72157660121801969
Installed May 2016
The Pitch is a 16 foot tall, powder-coated aluminum structure with changing LEDs.
On October 2, 2014 the Public Art Commission recommended for hire local artist team Laura Freed & Jen Stringer (PACT) to design and complete an artful bike rack project at Harbor Park.
The project was completed in May, 2016.  The 16′ tall powder coated aluminum sculpture references a traditional ship propeller, celebrating Norfolk's remarkable nautical history and lively water front community.
A series of graduated rings sit adjacent to the prop. Designed to suggest the movement of water behind a rotating propeller, the rings serve as bike racks for park visitors. The sculpture comes to life at night as integrated LED lighting fill the blades with color.
Phillip Mann with Mannpower was the electrical contractor, and Brian Haines with Old Dominion Lighting Associates supplied the light fixtures. Jim w/ Metal Concepts in Norfolk fabricated their design.
Hear Karen Rudd, Cultural Affairs Manager talk about Public Art in Norfolk, VA on our October 14, 2015 Art Walk during Norfolk Visual Arts Week!
https://www.youtube.com/watch?v=og9HRtkhmCM&feature=youtu.be
The new Transit Gallery is located in the HRT Southside Bus Operations Maintenance & Administration Facility Bldg. #4, 509 E. 18th St., Second Floor, Norfolk, VA 23504 / 222-6000
Gallery hours: 8am-5pm M-F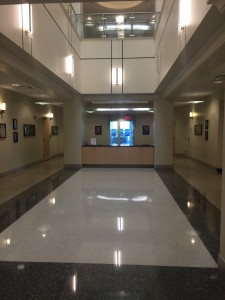 Look what we are doing!
http://norfolkarts.net/public-art/work-in-progress/