Art Talk
2017 artist Elaine Fleck is on to her next exhibition in Lynchburg at Riverviews Art Space on view through Feb. 15th. Elaine's "A World Away" ended in November.
Congratulations to Elaine on the sale of Elm Avenue pictured on the right above.
Threads Redefined can be seen at Riverviews Art Space through Feb 15th. Read more about the exhibit:
Elaine Fleck, a Roanoke artist, weaves a world of bold colors and could-be familiar faces and places in her two-dimensional work painted on fabric. On display in a joint exhibition, "the natural world comes to life with each artist using her own experiences, and elements of nature and the people who live among it. Both have a knack for texture and textile that complement each other beautifully to redefine fabric as a unique way to see the world around us."
Fleck's work has been seen at the Delaplaine Arts Center in Frederick, MD. Elaine was featured in Tidewater Women in September, 2017, as well as the Columbia Tribune and Roanoke Times. In 1999 and 2000, Fleck was awarded Best in Show at the Roanoke City Art Show.
https://www.facebook.com/events/2026983420911671/

In addition to the above, 2017 Offsite Gallery artist Vieno James recently exhibited at Art Basel!
Read this Sept. 28, 2017 article about Vieno! http://www.drailedmag.com/category/interviews/
Read about 2017 artist Kacey Carneal!
https://meaningfulconnections.me/2016/08/15/creative-connector-folk-artist-kacey-carneal-spreads-joy-through-her-paintbrush/
The Church St./Attucks Public Art Planning Committee selected artist Ayokunle Odeleye to design and create artwork to "celebrate the rich history and reflect the diversity of the cultural heritage of Church Street welcoming everyone to a place of inclusion."
"Ascension to a Higher State of Being" was installed November 11, 2017.  The 30 ft. stainless steel sculpture signals a gateway, transition and connector to downtown.  4 concrete sculptures house metal plates with text selected by the community.
See photos here: https://www.flickr.com/photos/seldenarcadegallery/albums/72157669817010322
Dedicated: January 15, 2018 during the Martin Luther King memorial at the Attucks Theatre.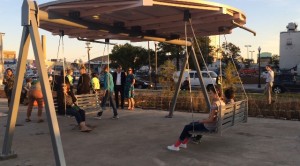 On October 20th we dedicated Matthew Geller's public art project "Upper Blush". Swaying benches create a titling motion that directs collected rain water into a nearby rain garden.
The City of Norfolk received a grant from the National Endowment for the Arts Our Town program to hire an environmental artist  work with urban planners and community partners to design and create artwork that responds to recurrent flooding.
Norfolk is the cultural, educational, medical, and business center of the southeastern Virginia region known as Hampton Roads. The City and area is renowned for its 400 year history, major military base, and shipping port.
Waterways are part of its success and charm but are also major threats due to recurrent flooding. According to The World Resources Institute, the Hampton Roads area is experiencing the highest relative rate of sea-level rise along the entire U.S. East Coast. The area is second only to New Orleans as the largest population center in the country at risk from sea-level rise. Norfolk is especially susceptible to flooding because the tension between flood water over topping banks and coming up through storm drains during high tides and rain water falling.  Tidal flooding is often exacerbated by wind speed and direction.
Norfolk was designated one of "100 Resilient Cities," as part of the Rockefeller Foundation's 100 Resilient Cities Initiative and received a grant to build and expand our ability to rebound from adversity, both natural and economic. We are a forward-thinking city that is strengthening the infrastructure and preparedness of our low-lying coastal region for the flooding challenges we face today and moving forward.
See more pictures on Flickr:
https://www.flickr.com/photos/seldenarcadegallery/albums/72157688263693504
We are pleased to announce "Imagine 5 Points"
Norfolk's

1st outdoor art gallery on Sewells Point Rd.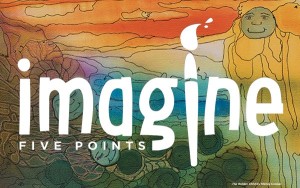 Congratulations to the following artists:
Elliott Addesso
Betsy DiJulio
Nancy Topping Bazin
Anne Bousquet
Mensah Bey
Joan Biddle
Aimee Bruce
Heather Bryant
Therese Cook
Shirley Cooper
Kim Morgan Cummings
Justin DeCou
Donna Iona Drozda
David Gwaltney
Andy Harris
Myke Irving
Robert Gusentine
Patricia Isenhour
Michael James
Nicol Jean
Christopher Kozak
David Lentzner
John Litz
Ryan Lytle
Emily Macon
Brianna Tew
Michelle Tillander
Virginia Van Horn
Maria Waldbaum
Catherine DelSandro Walsh
Keara Wilson
Dennis Winston
Denise Wright
Ja'lisa Yates
Sharon Pierce McCullough
Keith Oliver
John Roth
Bob Sites
Sharon Swift
Susan Tolbert
Eitan Stern
Ray Wiggins
Lead Artists Jenna Rodriguez, Stefon Penn and Christopher Kozak completed public art projects over the summer with students of Norfolk's Emerging Leaders Program and Teens With A Purpose.
Jenna Rodriguez worked with students to create "Traverse" for the Evelyn T. Butts Transfer Station  at 7607 Evelyn T. Butts Ave.  Wood templates of hands were cut then fabricated in plastic at NorvaPlastics and stamped with quotes gathered from travelers. The hands were placed along the chain link fence surrounding the station at various heights.  A mural of pedestrians and animals in action completes the project and hangs along a retainer wall stretching over a block (196ft.).
Christopher Kozak worked with students to create "Fathom's of Freedom", an almost 40 ft. tall mural created in honor of 100 years Naval Station Norfolk.  Installed in October on the Fountain Park Garage at 130 Bank St., the mural depicts various things specific to Navy Norfolk and the goddess Columbia to represent the concept of liberty and holds the North Star and Little dipper above.  Christopher surprised his grandmother with a portrait of her and his grandfather who was in the Navy and was stationed here years ago.
Stefon Penn worked with student's of the Teens With a Purpose summer camp to create "Be Active", a mural of children at play, for the entrance to the Young Terrace Recreation Center.  The mural was installed November 2017.
See Pictures here: https://www.flickr.com/photos/seldenarcadegallery/albums/72157686331855556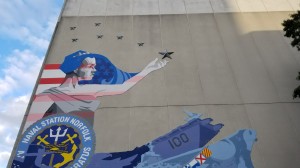 The public art school committee selected Asheville Stone Mason, Marc Archambault of Hammerhead Stoneworks to complete 5 projects for 5 new schools in Norfolk, Virginia.
Hammerhead Stoneworks was founded in spring 2009. Marc has worked as a mason, designer and project manager.  He mostly works in and around Asheville, but has done projects in Chapel Hill, NC, Rock Hill, SC, Atlanta, GA and Gainesville, FL.
Marc visited with students of Richard Bolling and Campostella Elementary School in April to gather ideas for the first 2 of the 5 projects he is creating for Norfolk public schools.  The first 2 projects are scheduled to install some time late 2017.  The last three will install in 2018.
Watch: https://www.youtube.com/watch?v=K9b14uy1jcY
Concrete has been poured for the Church Street public art project being installed in the median across from the Attucks Theater.  Artist Ayokunle Odeleye will be in town soon to complete the installation.
Below are some photos of the beginning phase completed March 5th.
The Public Art Planning Committee selected artist Ayokunle Odeleye to design and create artwork that will "celebrate the rich history and reflect the diversity of the cultural heritage of Church Street welcoming everyone to a place of inclusion."  The artwork will signal a gateway, transition and connector to downtown.  The final artwork will be inspiring, stimulate thought and conversation, serve as an example of creativity, and be captivating, lively and unifying.
Watch a video ~ Ayokunle Odeleye: 32 Years of Public Art Artist Talk
https://www.youtube.com/watch?v=yiQLIYu6Mqc&spfreload=1