National Opportunities
Deadline: Jan 31st
The City of Shoreline, Washington, seeks an experienced U.S.-based artist or artist-team to design, fabricate, and install a dynamic, site-specific artwork with the primary goal of serving as a landmark for the center of this young and growing city directly to the north of Seattle.
http://www.shorelinewa.gov/…/public-art-p…/calls-for-artists
Deadline: November 27
LAKE OLATHE DEVELOPMENT, OLATHE, KS
The Olathe Public Art Committee, on behalf of the Olathe, KS City Council, is seeking artists or artist teams to closely collaborate with project designers and contractors to develop innovative, original art for a major development project at Lake Olathe.
http://www.olatheks.org/visitors/visiting-olathe/sculpture-exhibits
ARC PROMENADE AT STAPLETON, DENVER, CO
The site of this public art project, Arc Promenade, is a landscaped environment in north Stapleton that functions as a park and serves the storm water management needs of the community. A regional trail and adjacent areas of "Big Green" and Windbreak Field" are of particular interest as a location for public art composed of multiple elements.
For more information about Stapleton please visit www.StapletonDenver.com.
Application:  The Stapleton public art program uses CaFÉ digital application and selection process at www.callforentry.org in partnership with Western States Arts Federation (WESTAF).  Full application information can be found at www.callforentry.org.  
Deadline: Jan. 3rd
The City of Olathe, KS is seeking large-scale, three-dimensional sculpture entries for the 2018 Downtown Outdoor Sculpture Exhibit. Sculptures are selected and displayed throughout the downtown area of Olathe for a period of one year. The sculptures are on loan for a stipend amount of $1,500-2,500 honorarium for each sculpture selected. Final honorarium amounts for each work will be determined by the City.
https://www.olatheks.org/home/showdocument?id=7097 
 Commission for a Commemoration of the End of Massive Resistance Deadline: November 30, 2017, 2pm
BUDGET: $350,000
PROJECT SITE: The commemoration will be located within the new Government Center located at St. Paul's Boulevard and Main Street adjacent to Norfolk City Hall. The entire block has been redesigned with a new Circuit, Juvenile and General District Courthouse, a light rail line, new traffic patterns and new landscaping. The square will be the eastern gateway to the City and is extremely visible from all points of downtown. There are a variety of potential locations and the Committee welcomes the artist's vision of the commemoration and the site most appropriate.  (See site plan below)
SIZE/MEDIA: The artworks should be large enough to create a visual and emotional impact. The committee will consider any durable, permanent materials that are safe and easily maintained.
PROJECT FUNDS: Up to five finalists may be selected to be interviewed by the Public Art Planning Committee via Skype. The finalists are not expected to complete a design at this stage but will be interviewed about past work and creative process. There will also be a preliminary discussion of the sites. The committee reserves the right to select the final artist without a finalist process.
SEE FULL PROSPECTUS/SUBMISSION GUIDELINES: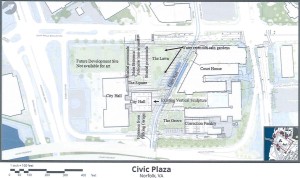 Deadline: January 28
Carolina Bronze Sculpture Garden, Seagrove
Accepting submissions for the exhibition of outdoor works in their sculpture garden and works for sale in their online directory.
For more information: http://cbsculpturegarden.com/gallery/