National Opportunities
Deadline: Oct 23rd
City of San José (City) Public Art Program and Environmental Services Department are seeking an experienced artist, or artist-led team to develop an artwork related to the new Co-Generation Plant, located at the San José-Santa Clara Regional Wastewater Facility. This artwork will be a public-facing feature screening the four (4) 50-foot-high emissions treatment exhaust stacks. Artists are asked to submit qualifications to design, fabricate, and install an artwork that serves to screen the Co-Generation equipment. Artist may decide to work with the base-project designed perforated metal screening system or consider a more 3-dimensional approach. It is also an opportunity to contribute to and promote ESD's sustainability goals for the RFQ by incorporating functional energy producing elements.
https://www.callforentry.org/festivals_unique_info.php?ID=4717
Deadline: Oct 27th
The Norman Arts Council, on behalf of The City of Norman and Norman Forward Percent for Art, for Norman Public Library Central, is seeking an artist (or team of artists) to create a significant work of art for the new Norman Public Library Central Branch to be located at 103 West Acres Street, Norman, Oklahoma.
Deadline: Oct. 16th
Treasure Island Arts Master Plan implementation of Phase 1 projects for large scale, site-specific art installations at Building 1 Plaza ($1 million), Waterfront Plaza ($2 million) and Yerba Buena Hilltop Park ($2 million). The first three large scale permanent public art commissions planned for a robust new art program on Treasure Island that may include as many as thirty permanent works and multiple temporary art projects in all media over the next two decades.
http://sfartscommission.org/find-opportunities/calls-for-artists/treasure-island-phase-1-art-opportunities
 Commission for a Commemoration of the End of Massive Resistance Deadline: November 30, 2017, 2pm
BUDGET: $350,000
PROJECT SITE: The commemoration will be located within the new Government Center located at St. Paul's Boulevard and Main Street adjacent to Norfolk City Hall. The entire block has been redesigned with a new Circuit, Juvenile and General District Courthouse, a light rail line, new traffic patterns and new landscaping. The square will be the eastern gateway to the City and is extremely visible from all points of downtown. There are a variety of potential locations and the Committee welcomes the artist's vision of the commemoration and the site most appropriate.  (See site plan below)
SIZE/MEDIA: The artworks should be large enough to create a visual and emotional impact. The committee will consider any durable, permanent materials that are safe and easily maintained.
PROJECT FUNDS: Up to five finalists may be selected to be interviewed by the Public Art Planning Committee via Skype. The finalists are not expected to complete a design at this stage but will be interviewed about past work and creative process. There will also be a preliminary discussion of the sites. The committee reserves the right to select the final artist without a finalist process.
SEE FULL PROSPECTUS/SUBMISSION GUIDELINES: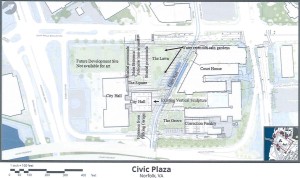 Deadline: January 28
Carolina Bronze Sculpture Garden, Seagrove
Accepting submissions for the exhibition of outdoor works in their sculpture garden and works for sale in their online directory.
For more information: http://cbsculpturegarden.com/gallery/
Deadline: October 30th
Nashville Airport Authority, Tenn. Seeking proposals for temporary Bonnaroo-themed artworks to be displayed in airport skylights.
https://www.flynashville.com/arts-and-music/Pages/Art-Opportunities-Flying-Solo.aspx