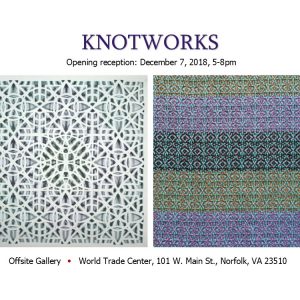 "Knotworks" by Reni Gower and Jorge Benitez
Opening December 7th 5-8pm at the Offsite Gallery, 1st Floor, World Trade Center.
Knotworks is the most recent iteration of a 5-year collaboration between Jorge Benitez and Reni Gower. Starting with a workshop that took place in Doha, Qatar, Benitez and Gower examine how connections between the Middle East and the West during the Golden Age of Islamic Civilization continue to be relevant and vibrant in the twenty-first century. By understanding the arts as a transliteration of one form of thinking to another and addressing the fundamental geometry embedded in visual art, their projects revisit the ongoing impact of Islamic art, science and philosophy throughout the world today.
Through complex patterning and laborious processes, their works reveal the universal language of sacred geometry. Since ancient times, geometric perfection (circle, square, and triangle) has been thought to convey sacred and universal truths by reflecting the fractal interconnections of the natural world. One finds these similarities embedded in Islamic design and Celtic knotwork as well as many other decorative patterns from around the world. Incorporating these traditional patterns into contemporary artwork promotes understanding through a shard perspective that reinforces cross-cultural bonds.