Now Showing
We continue the mission of bringing people together through the arts.  Norfolk Arts manages two art galleries:
Offsite Gallery (formerly Selden Gallery) relocated in 2015 from the Selden Arcade to the World Trade Center.  Exhibitions rotate every 6 to 8 weeks.
Transit Gallery (opened October 2015)  is located in the HRT Southside Bus Operations Maintenance & Administration Facility Building.  Exhibitions rotate quarterly.
Other gallery locations in Norfolk can be found here.
1st Floor, World Trade Center
101 W. Main St, Norfolk, VA 23501
Gallery hrs: M-F 8:30am-5:30pm / 664-6854
JUNE 16 – JULY 28
2017 Renaissance
Art of African American Artists
Curated by Maizelle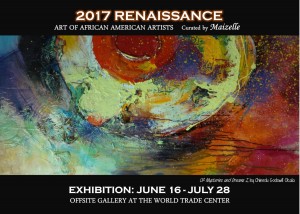 2nd floor, HRT Southside Bus Operations Maintenance & Administration Facility Bldg. #4,
509 E. 18th St., Norfolk, VA 23504.
Gallery hrs: 8:00am-5:00pm Monday-Friday / 664-6854
APRIL 7 – JULY 27, 2017
Marlowe Emerson: Natural Collective
"Marlowe Emerson's use of mixed media and collage allows her to explore and connect with the diverse environment of the Virginia coast.  "Natural Collective" (April 7 – July 27, 2017 at the Transit Gallery) is comprised of works created from scans, photographs and drawings of specimens collected from nature.  Through this body of work, Marlowe hopes to heighten our perception of the interdependent relationship between all elements of nature, including ourselves.
https://www.facebook.com/events/108876546292908/
Free & open to the public.  Gallery hrs: 8am-5pm M-F