Now Showing
We continue the mission of bringing people together through the arts.
Offsite Gallery relocated in 2015 from the Selden Arcade to the World Trade Center.  Exhibitions rotate every 6 to 8 weeks.
APPLY NOW TO EXHIBIT IN 2019! Deadline: June 30, 2018
Other gallery locations and places celebrating visual arts in Norfolk can be found here.
1st Floor, World Trade Center
101 W. Main St, Norfolk, VA 23501
Gallery hrs:  8:30am-5:30pm  Monday – Saturday (Sundays, see security for entry) / 664-6854
THROUGH June 15th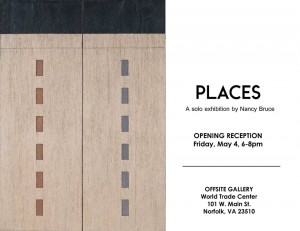 OPENING JUNE 22nd! 6-8pm