Now Showing
We continue the mission of bringing people together through the arts.
Offsite Gallery (formerly Selden Gallery) relocated in 2015 from the Selden Arcade to the World Trade Center.  Exhibitions rotate every 6 to 8 weeks.
Other gallery locations in Norfolk can be found here.
1st Floor, World Trade Center
101 W. Main St, Norfolk, VA 23501
Gallery hrs:  8:30am-5:30pm  Monday – Saturday (Sundays, see security for entry) / 664-6854
On view through April 27, 2018
Join us for "Conversation with the artists" April 21, 2-4pm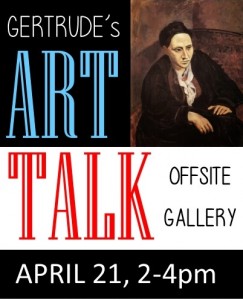 "Every Wednesday night in Olde Towne, a group of artists and academics gathers to discuss topics like politics, travel and cooking.
"The meetings are in the style of the salons once held in Paris by Gertrude Stein — hence the group's nickname, 'The Gertrude Group.' "
"I envisioned myself as Gertrude Stein re-incarnated with her updated salon," said Jean Peacock, a painter who hosts the gatherings at her home.
Read more in this Virginian Pilot article.