All public art opportunities with Norfolk Arts and any other art opportunity with us will be posted here.
Find National Public Art opportunities HERE
Exhibit at the Offsite Gallery @ MacArthur Center in 2021/2022
Budget:
$0

Medium:
Items over 50lbs & small items requiring a pedestal are discouraged (unless artist can provide locked pedestals for display)
Location:
Offsite Gallery @ MacArthur Center, MacArthur Center, Monticello Avenue, Norfolk, VA, USA
Deadline:
06.15.2020
Open to all, 18 years or older, residing in the United States. Artists are required to submit 5-10 images and a written proposal for committee review. No fee to apply. Proposed exhibitions may be solo or group and are open to all visual arts media. Special consideration will be given to local artists and to proposals that include a community engagement component to be facilitated during the exhibition such as a performance, hands-on workshop, artist talk, etc. Gallery will hang artwork unless unusual hanging requirements are necessary. Items over 50lbs are discouraged as are small items requiring a pedestal (unless artist can provide locked pedestals). Any expenses regarding installation and removal determined by Norfolk Arts to be out of the ordinary will be the responsibility of the artist. Norfolk Arts will host an opening reception and create all collateral used for advertising on social media, etc. Artists are responsible for delivery and pick up of artwork and for any shipping costs. Norfolk Arts takes no commission. Norfolk Arts will consider the diversity of beliefs and values and general standards of decency of the citizens of Norfolk.
DEADLINE: June 15, 2020
Submit in a single email to publicart@norfolk.gov by 5pm, June 15, 2020
or: mail proposal to Norfolk Arts, Suite 409, 810 Union St., Norfolk, VA, 23510
NOTE: Materials submitted via Dropbox will not be accepted.
Proposals must include:
1) Artist statement and curriculum vitae or resume
2) Information about the subject of the work and intent of your exhibition
3) An image list to include titles, medium, dimensions and year work was completed
4) Idea for a community engagement component to your exhibition
5) Name, address, phone, email and dates preferred from Exhibition Schedule below
6) 5-10 JPEG images that accurately represent a cohesiveness of work to be exhibited
Exhibition Schedule (subject to change):
2021
January 15 – March 5
May 14 – July 2
July 9 – August 20
August 27 – October 8
October 15 – December 3
December 10 – January 28, 2022
2022
February 4 – March 18
March 25 – May 13
May 20 – July 1
July 8 – August 26
September 2 – October 14
October 21 – December 2
December 9 – January 22, 2023
Questions email: publicart@norfolk.gov
In the event your proposal is accepted, you will be emailed by July 31,2020. Proposals not accepted will not be notified.
Seeking a Design Team Artist for the NEON DISTRICT
Budget:
$35,000

Medium:
any
Location:
Neon District, Norfolk, VA, USA
Deadline:
04.02.2020
The Norfolk Public Art Commission and the NEON Arts District Planning Committee seek to commission an artist to work with engineers and other design professionals on the streetscape improvement plan.
LOCATION/CONTEXT: The NEON Arts District in Norfolk, Virginia is Norfolk's first official arts district and is home to a wave of passion and creativity in downtown. The NEON draws from the neighborhood's history with the automobile industry as it moves into a new and vibrant future. You can experience theater, opera, glass blowing and international exhibitions within the Districts' boundaries at the well-known Chrysler Museum, Harrison Opera House, The Pushers improv comedy group, and Hurrah Players technical theater school. Busking, night life, street activity, food trucks and more are all part of the NEON experience. You will find an electric mix of people, artists and organizations added to the existing gun shop, furniture store, tattoo parlor and 90-year-old haberdasher. Biking, cafes, markets, retail and other small businesses–both permanent and pop-up–are encouraged. The District has become a vibrant, 24/7 place where the diverse people from all areas of Norfolk live, create and play.
SEE FULL PROSPECTUS:
Prospectus NEON design team
APPLY AT norfolkarts.submittable.com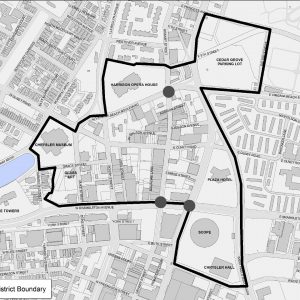 Norfolk Private Partnership Public Art Match: $25,000
Budget:
$25,000

Medium:
Any
Location:
Norfolk, VA, USA
Deadline:
12.31.2020
(Note: No Deadline, this is an ongoing opportunity)
The Norfolk Public Art Commission seeks to match funds to create Public Private Partnerships to create public art in Norfolk, VA.
CONTEXT: Public art is a valuable tool for creating dynamic and sustainable places. Art displayed prominently at locations within the community serves as an effective tool for creating unique and diverse destinations. Public art can also bring added texture to otherwise indistinguishable areas. Funded by 1% of the City of Norfolk's Capital Improvement budget, the Norfolk Public Art Program has been successfully commissioning public art for the past twelve years in downtown, parking garages, the zoo, light rail stations, community centers and a variety of other public spaces.
PROJECT DESCRIPTION: We are seeking private commercial developers who want to enhance their development project with public art. The Norfolk Public Art Commission will match up to $25,000 for each project.
PROJECT SITE: Artwork must be placed within Norfolk city limits at the private development site where it can be experienced by the maximum number of people.
SIZE/MEDIA: Artwork size and materials will be determined by the project site(s). Artwork must be fabricated in durable, permanent materials that are safe and easily maintained. Artwork will become the property of the City of Norfolk and will be maintained by the City.
PROJECT FUNDS: The total budget for the completed artwork will be a minimum of $50,000 with $25,000 from City Public Art funds and $25,000 or more from the developer.
TO APPLY: All commercial developers and foundations are eligible. Please submit a letter of interest to Karen Rudd, City Hall, 810 Union St., Room 409 Marketing and Communications, Norfolk, Virginia 23510 or email karen.rudd@norfolk.gov. Candidates will be interviewed prior to final selection. There is no fee to apply.