Campostella STEM Academy public art project
These mosaics are small parts to "The Tiny Kingdom" Marc Archambault is creating for the Campostella Southside STEM Academy in Norfolk, VA. This will be one of the first installations of his project that includes designing and installing 6 natural stone mosaics at 5 schools.
There will be 7 (approx. 33 inch) panels surrounding two children exploring nature with magnifying glasses and sketchbooks. Installation is planned for the summer of 2018 on the main hallway front entrance wall to the school.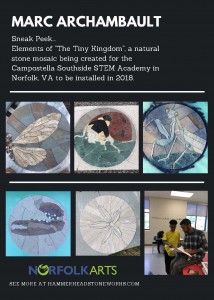 Read more about the artist:
http://www.hammerheadstoneworks.com/news