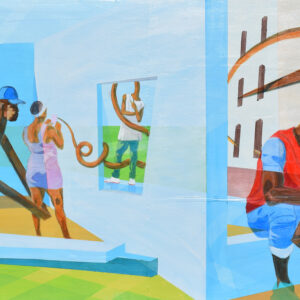 Access and Extension by Mensah Bey July 8 – August 26, 2022
Access and Extension, a solo exhibition by Mensah Bey.
Access and Extension is a collection of artworks inspired by Mensah Bey's Artist Residency program in Havana, Cuba with Rooster Global News Network. The title references the constant tug of war citizens and visitors face with seemingly so little access to tangible and intangible needs. Bey observes that whether giving or receiving the act of extending oneself becomes a more powerful form of exchange. Bey incorporates his signature surrealist style with a conversation about Cuban relationships with the Internet and social media. His multi-dimensional figures and collage composed imagery is akin to the bombardment of information that the Internet breeds. He eloquently weaves narratives in the landscape of Havana's bustling vibrant city life. His paintings explore "selfie" culture as an insight on the use of digital devices in third- world societies. Bey acknowledges his own intrusion and biases, placing remnants of his role as a part-time member of the community.
Join us for an opening reception July 8, 5-7pm. Free & open to the public.