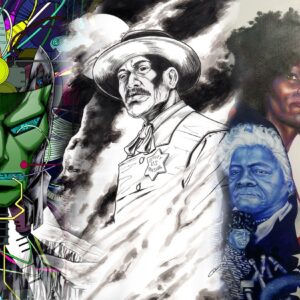 Beyond The Box: A Journey Through the Mind of Willie Cordy, Jr.
LISTEN TO A PODCAST WITH WILLIE CORDY, JR (Via Slover Library's Creative Team "Your Friendly Neighborhood Comics")
"Beyond the Box" is a glimpse into the artistic process of local comic book creator and art educator, Willie Cordy, Jr.
"Beyond the Box: A Journey Through the Mind of Willie Cordy, Jr" explores the comic book world, where imagination becomes a visual reality and creative, out of the box concepts exist. A diverse mix of sketches, inked drawings and paintings create a unique journey into Cordy's popular City Earth series and upcoming 2021 Bass Reeves comic book release. One of his most powerful acrylic paintings, part of a developing series reflecting on real historical events in America is also on debut.
A Portsmouth, VA native, Cordy knew at an early age he was destined to live a creative life. Hearing art was not a way to make a living only fueled his desire to do just that. Graduation from the Portsmouth School of Cosmetology led to apparel design and art commissions from R&B artists Bobby Brown, TLC, Public Enemy and the 1996 Olympic games. Technical training and learning the complexities of airplanes while becoming a certified FAA Aviation Maintenance Technician allowed for an unconventional means of creative expression. With his love for art continuously at the helm, he earned an undergraduate degree and MFA from Norfolk State University then became an NSU Art Educator. Cordy is currently an Adjunct Professor of Media & Fine Arts at Regent University and an Art Instructor at the Art Institute in Virginia Beach. Best Educator at the Annual Black Men Rock Image Awards in 2017, Best Illustrator in 2016 and Best Educator of the Year for Hampton Roads from Blessed Lifestyle Magazine in 2014 are just a few of many accolades he has received. Cordy regularly shares his talents through workshops at local libraries and mentors writers, artists and enthusiasts in his home studio.
"My art represents and reflects life, and I will continue to seek out new ways to bring people closer to experience art."- WC