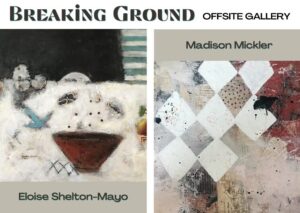 Offsite Gallery Breaking Ground by Eloise Shelton-Mayo and Madison Mickler
Exhibition on view through December 3, 2021.
Eloise Shelton-Mayo creates abstract paintings & collage with an overarching theme of home, transition, loss & redemption. Attracted to worn fragments of the natural world, architecture with its history & how memories punctuate moments, collages most often represent physical landscapes, focusing primarily on the mystery & mining of psychological terrain.
Madison Mickler uses painting as a meditative practice often departing from realistic representations. Materials most frequently relate to cherished, mundane, domestic moments, which ground her on a daily basis. The action of mark making & the inherent meaning of common materials, delve into the interplay of influences, memories & their effects on the subconscious.
Having crossed paths online, Shelton-Mayo & Mickler quickly developed an admiration for one anothers' work. They discovered deeper, shared experiences that informed their personal lives as well as art practices after discovering their close proximity. Despite a difference in age, both were emerging from a long stint of caring for loved ones sparking a renewed focus birthed with passion for internal exploration. Mickler soon traded realism for abstraction & Shelton- Mayo became more experimental with media and collage.
In celebration of their development of creating artwork in new, dynamic ways, a collaborative montage of framed works on paper is central to their exhibition. Chosen artworks inform one another creating an integrated, inspirational, visual story.
Eloise Shelton-Mayo received her BA from the University of NC at Wilmington & her Associate in Studio Arts from the Tidewater Community College Visual Arts Center. Several of Shelton-Mayo's paintings & collages are part of the Tidewater Community College Visual Arts Center Permanent Collection. She is represented by galleries from Cape Charles to Newport News, & has been selected for multiple exhibitions across the region. Shelton-Mayo is a Gamblin Certified Oil & Cold Wax instructor & Gelli-printing workshop instructor.
Madison Mickler received her BFA from Savannah College of Art & Design, Summa Cum Laude with artistic & academic honors. Her work has been included in numerous galleries throughout Atlanta & across the region.
Event Details

10.15.2021 5:00 pm

12.3.2021 8:00 pm

Event
Event Organizer

757-664-6854

artsnorfolk@gmail.com
Venue

MacArthur Center, 300 Monticello Ave. Suite #287




Norfolk

,

VA

23510

United States

757-664-6854