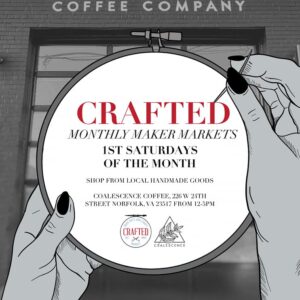 Crafted Indie Arts & Crafts 1st Saturday's Monthly Maker Market at Coalescence Coffee
1st Saturday of every month you can now shop the Crafted Market at Coalescence!
Located at 226 West 24th Street in Norfolk across from in the heart of the Railroad District in Norfolk, VA.
Handmade Markets run from 12- 5pm every 1st Saturday of the month!