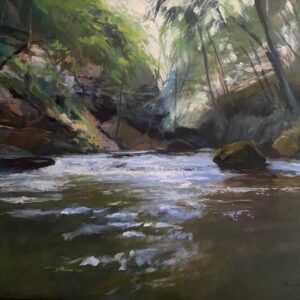 Now on view: "Cuyahoga River" by Susan Check
Local artist Susan Check is exhibiting oil paintings of the Cuyahoga River at our Offsite Gallery, Suite #287, on the 2nd level of MacArthur Center through 02/15/23.
Free and open to the public.
Having grown up near the Cuyahoga River in Northeast Ohio, Susan Check was familiar with the landscape, but surprised to realize all there was to learn about the 100 mile long crooked river.
Portraits of the river created for this exhibition, reflect traits relevant to each mile such as unique water patterns and seasonal changes. From rocky falls to open still water, a variety of painting styles represent different moods. From headwaters, to a southwest journey across a wall of rock, to a final release into Lake Erie, Susan's paintings give life to the waters that once powered mills and filled the Erie Canal.
Check has lived and painted in Virginia for thirty-five years. She began by taking classes in watercolor and eventually spent a few years teaching at the Contemporary Art Center (now MOCA). Susan has led numerous workshops and was a Virginia Wesleyan College guest artist. She started her series of the Cuyahoga River, with the intention of learning to use oil paints and now paints primarily with oil. Susan is an exhibiting artist at the Artists Gallery inside the Virginia Beach Art Center.