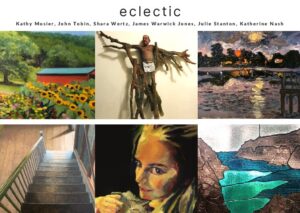 "Eclectic" Through Nov. 6th- A group exhibition curated by John Tobin
Participating artists: Kathy Mosier, John Tobin, Shara Wertz, James Warwick Jones, Julie Stanton, Katherine Nash
WATCH A VIDEO

Eclectic aptly describes the individual styles celebrated in this exhibition of 6 Hampton Roads, Virginia artists exploring a variety of mediums and making individual statements through innovative expression. Some of Tidewater's best artistic approaches to design and color in painting, drawing, printmaking, sculpture, assemblage, stained glass and collage are represented.
Kathleen Mosier
Kathy's oil paintings of figures and landscapes are grounded in realism mixed with the immediate joy of pushing the colors around the canvas. A portrait is always the goal whether it is capturing a likeness of a model or the unique expression of a landscape during a particular afternoon.
Kathy graduated from Hiram College with a B.A. in Art History and a minor in Studio Art. After receiving a Masters in Information Science from Drexel University, she worked on digitization projects for art museums.
Kathy is currently an instructor in the Visual Arts Dept. at the Governor's School for the Arts.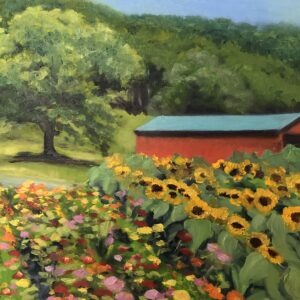 John Tobin
While John uses clay as his primary medium, sometimes to complete his vision other materials may be incorporated. This continues to expand as he continually learns and experiments with new casting methods and products.
Normally John's work contains elements of a personal narrative, based on ideas or themes experienced through travels or from many years of teaching art. Oftentimes his work has been described as whimsical. John prefers to make figurative works and is always on the lookout for an interesting face or situation.
Ideas for an artwork can come out of the blue, while mowing the lawn, showering or even in dreams. "I keep a log of these dreams as well as sketches of possible sources of inspiration."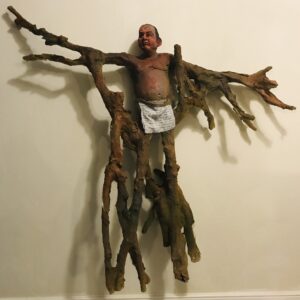 Shara Wertz
Shara Wertz is an Arts Educator at Norview High School in Norfolk, VA. Shara primarily paints Hampton Roads landscapes en plein air. She is well recognized for her distinct impasto oil paint applications. Rough textures reflect color and light and highlight primary elements of her mostly daytime scenes. Expressionist painters (notably Van Gogh) was known for his use of impasto techniques to convey feelings and emotion. Using loose, immediate brush strokes and at times, her pallet knife, Shara consistently creates brilliantly resplendent compositions.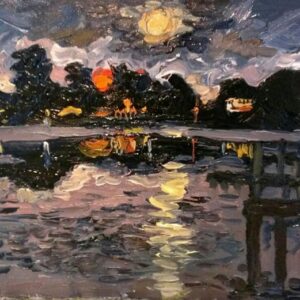 James Warwick Jones
James Warwick Jones is a realist painter who captures light, shadow, design and emotion in acrylics and watercolor, focusing on a range of subjects and often including ordinary things transformed by the artist's eye.
Born in Hampton, VA he studied with Jack Whitney Clinton, Will Barnet, Walter Stuempfig and others at the Pennsylvania Academy of the Fine Arts and graduated from ODU with a BS in Secondary Art Education. After teaching over 47 years and working 36 years in curatorial and programming at the Peninusula Fine Art Center and Charles Taylor Visual Arts Center, he retired as gallery manager in 2018 and continues to teach painting classes at Charles Taylor. James has exhibited in more than 250 exhibitions and won over 200 awards. His work is represented in over 20 public and corporate collections including the Virginia Museum of Fine Arts, Phillip Morris, Portsmouth Museums, Wachovia Bank, CSX Corporation, and the Charles Taylor Visual Arts Center.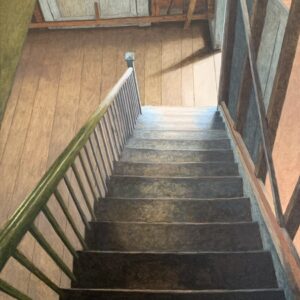 Julie Stanton
Julie Stanton has always been in love with the feeling she gets when she has the opportunity to meet another soul. "That must be why I am naturally drawn to expressionism. I care more about presence than likeness."
"I make art because there is no other way of spending time that I feel more meaningful." When Julie creates a portrait, and it transcends into the material world, it comes alive and she feels spiritually satisfied. These works are her progeny that she sends into the future, where she hopes that some part of her soul and the subjects soul will connect to others that see her work.
Theologian and philosopher, Rudolf Otto, convinced Julie that a spiritual realm exists by his explanation of the "numinous." Julie feels the spiritual realm must be real, because "we are able to sense it in a way that is like no other perception or experience."
With no formal training, Julie has mastered the ability of capturing emotion. Viewers are transformed into intimate moments in each of her drawings and paintings and often feel as though they too are part of the scene.
A 20 year US Navy Veteran, Julie has always been interested art and began to pursue it as a career about 5 years ago.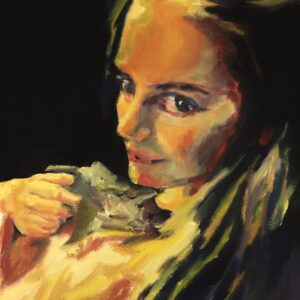 Katherine Nash
After a long hiatus, Katherine Nash returned to working in stained glass again for about the last three years. Due to being forced to live life at a slower pace than norm recently, Katherine has been able to see (and miss) the things that bring her joy and has tried to illustrate in the glass pieces created for this exhibition. Her series is focused on one of her biggest loves – the river. Designs are all based around places near and dear to her heart because she has built so many memories in and around and under them through kayaking. The last three and a half years have been filled with so much adventure, excitement and beauty that it's been overwhelming for her at times. "I feel like the glass, when the light dances through it just right really reminds me of special moments on the water. I hope to effectively capture and share a little bit of that beauty in my work."
A Hampton Roads native, Katherine spent much of her early years in Gatlinburg, TN and attributes her love of drawing and painting and anything else art related to time spent there near the Arrowmont School Arts and Crafts. Katherine is an interior designer in Norfolk, VA.