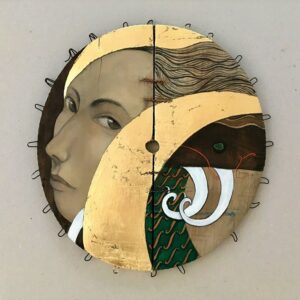 ICONOGRAPHY by Petya Evtimova-Ivanova
Join us for an opening reception, May 14, 5-7pm on the 2nd floor of MacArthur Center, Suite 287, 300 Monticello Ave., Norfolk, VA 23510. Free and open to the public. Masks and social distancing required.
For her solo Offsite Gallery exhibition, Petya combines two oil painting series inspired by the old Dobarsko Church in Bulgaria, housing 460 frescoes of the human figure and more than 30 women saints. Petya's intent is not to reflect on religion, but to pay tribute to the contemporary women among us – powerful and striving to improve the world, yet feminine and fragile at their core.
Reminiscent of old Orthodox icons, Iconography integrates gold leaf accents into portraits on wood.Potential Saints is a series of black and white portraits on canvas adorned with decorative elements and saints nimbus, like those found in old church frescoes.
Petya received her MFA from St. Cyril and St. Methodius University, Bulgaria with a specialization in Fine Arts.