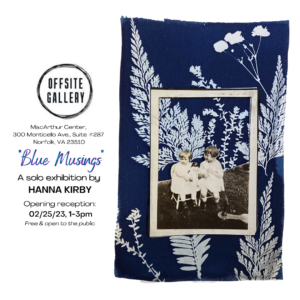 Offsite Gallery opening reception "Blue Musings" by Hanna Kirby
Join us for an Opening Reception & Collaborative Origami: Saturday, February 25, 1-3pm
"Blue Musings" by Hanna Kirby
Free & open to the public.
The Offsite Gallery is located on the 2nd level of MacArthur Center, Suite #287, 300 Monticello Ave., Norfolk, VA 23510.
Parking is best at S2.
Enter the MacArthur Center Garage from the main City Hall Ave. entrance (directly off of the interstate).
Pull a ticket (parking for 1-3hrs. is $1)
Proceed up the ramp to the 2nd level and turn right.
S2 is straight ahead.
Enter and turn left and we are a few doors up on the left across from Sephora.