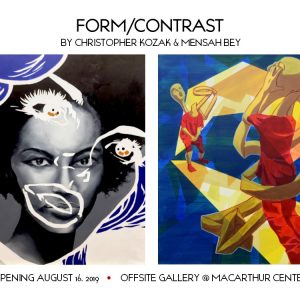 Offsite Gallery opening Form/Contrast
Join us at our new location at MacArthur Center, 300 Monticello Ave., Suite #287, Norfolk, VA 23510. August 16, 5-8pm – Free & open to the public.
With a focus on a modern interpretation of the human form, Christopher Kozak & Mensah Bey present the human figure from contrasting vantage points. Comic centered backgrounds create courageous, illustrative settings for Christopher Kozak's figures. Vibrant, Afrocentric, humanoid abstractions move throughout Mensah Bey's paintings. Viewers connect through a shared naturalistic narrative.