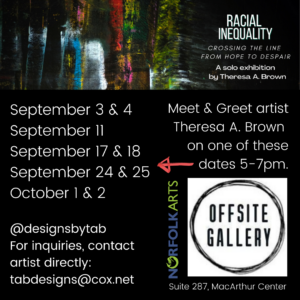 "Racial Inequality" by Theresa A. Brown
On view through October 8, 2021
Free & open to the public.
Through a series of abstract acrylic paintings, Theresa Brown expresses feelings of pain, love, hope and progress for the future related to issues of racial inequality. Her uniquely unified technique evokes emotion while challenging the mind to see the unseen and unspoken. Representing a step forward for her ancestors and children, a red footprint is incorporated into each painting.
Brown received her BFA in Commercial Art and Design from Virginia State University. She has been a recipient of numerous awards and accolades. Theresa was an award winning artist at the 2020 Williamsburg Contemporary Art Center Annual Members' Show. National exhibitions include Chicago WCA Woman Made Gallery-Intersectional History and Young Women's Caucus, Stockley Garden Art Festival, Museum of Contemporary Art Boardwalk Art Show, Newsome House Museum-The Technology Series, The Charles Taylor Visual Arts Center-2019 Virginia Juried Artists, and the University of North Carolina Wilmington Cab Art Gallery-XX: Women 2020.