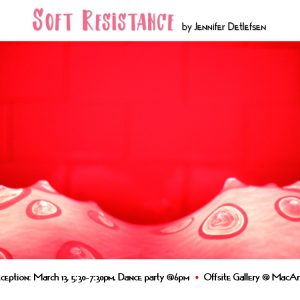 Through April 24th "Soft Resistance" by Jennifer Detlefsen
jendetlefsen.com
Free & open to the public.
The color of blushing lovers, budding cherries, the perfect cupid's bow of a baby's mouth, new life and sunsets and sex, pink is present in the moments of sweetness and silliness that make life worth living. "Soft Resistance" invites you to examine your preconceived notions of the world's most polarizing color, and find strength in vulnerability. Guests are invited to don their favorite pink attire for an opening night dance party at 6 pm. Throughout the exhibition, visitors are encouraged to use the space to connect, reflect and recharge in the immersive sensory lounge.