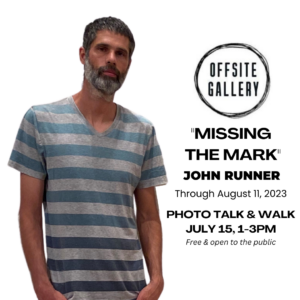 Photo Talk and Walk with John Runner at the Offsite Gallery
Photo Talk and Walk: Saturday, July 15, 1-3pm
Free and open to the public.
Join us as we welcome local artist John Runner to our Offsite Gallery at MacArthur Center for a photography Talk and Walk. All ages welcome.
"Missing the Mark" by Runner, on view through 08/11/23, is a series that explores biases and assumptions. John Runner believes we all view the world through the lens of our own baggage. But if we take a moment to pay attention to the context of what we are reacting to, we will achieve a better understanding.
When Japanese students receive graded papers for feedback, all the questions receive a mark to de-stigmatize marking up the page. Different marks are used to denote correct, wrong, close, and perfect. To a western audience, the meanings of some marks may be obvious, some may seem meaningless, others may actually mean the opposite of what is expected. John Runner has used these same marks to assess large black and white photographs. These are the first enlargements he has created at this size in a darkroom, which was a learning experience. Runner evaluated this learning experience essentially by grading it.
Only by recognizing the context of the marks can the viewer discern their true meaning. For those that fail to do so, they will be "Missing the Mark".
John graduated with a BA in Studio Art from the University of Texas at El Paso and received his MFA in Visual Studies through a joint program with Norfolk State University and Old Dominion University. He is currently an art teacher at Woodside Arts Magnet High School and co-owner of Little Light Film Lab in Norfolk, VA.
Be sure to bring any old rolls of film with you and drop off for developing by Little Light Film Lab at the gallery through 08/11/23. Approx. $20 per roll and $10 to scan. Contact John at milesrunner@gmail.com with any questions.