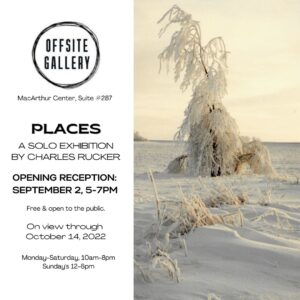 "Places" by Charles Rucker
Join us for an opening reception September 2, 5-7pm. Free and open to the public.
Charles Rucker aims to evoke a sense of joy and contentment in the viewer while portraying the emotion of encounters. Viewers will sense the North Dakota warmth and chill, a reverence for vast prairie-lands, and the distinct beauty of the Southwestern Sonoran Desert after a dusting of snow. Rucker's observational photographs focus on fond memories of the "Old Homestead" barn, the night time flowering of the Cereus Cactus, and the beauty of the sentinel Saguaro Cactus.
Rucker states, "Expressing gratitude and kindness is an art. We must take the time to embrace the art of life and living and enjoy long walks while listening to the sounds of the waves."
Songwriter Roberta Lea put his story to music as part of the Tidewater Arts Outreach Once More Concert in 2021. Listen here.