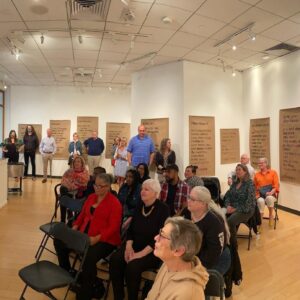 Poetry on the Pavement Exhibition through May 13, 2022
See photos and videos of opening night!
Offsite Gallery at MacArthur Center
Suite 287
Visit the gallery as we celebrate National Poetry Month by sharing 25 poems by 20 authors who live, work or attend school in Norfolk, VA, selected as part of our Poetry on the Pavement public art project.
Guest speaker, Luisa Igloria, Poet Laureate of Virginia, opened the exhibit 04/01/22 with a reading, followed by short selections by several of our poets. Thank you to everyone who joined us. Stop by and pick up a poem for your pocket and share poetry on April 29th.