Events
NORFOLK VISUAL ARTS MONTH IS EVERY OCTOBER!
See 

where to go

to

experience visual arts! in Norfolk!
Connect with us on Facebook and share visual art events that are happening around town.  Email information about any Norfolk visual art venue, exhibit, event or way to experience the visual arts in Norfolk, VA to artsnorfolk@gmail.com.  
We hope to maintain a complete list of venues that focus primarily on visual arts in Norfolk.  During our annual Norfolk Visual Arts Month, the page will focus on specific events planned for October.  
OFFSITE GALLERY:
1st Floor, 101 W. Main St, World Trade Center Norfolk, VA 23510
M-Saturday, 8:30am-5:30pm (Sundays see security)
Through August 10, 2018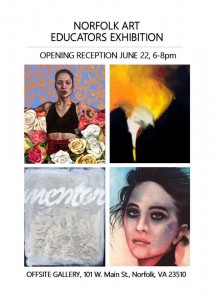 COMING AUGUST 17
MICHAEL DONOVAN "Instruments of Respite"
Through the exploration of physics and invented tools, Michael Donovan creates a manifestation of synergy and self-awareness.  Sculptural implements simultaneously establish and preserve an actuated state becoming self-contained events.  Each piece performs a designated task with no true purpose other than sustaining the level of energy generated within.   Solid materials are incorporated as a tangible representation of new accountabilities in life after taking on a recent role as parent. Creating these implements serves as metaphorical alleviation from potential overwhelm.
Michael Donovan received his MFA in Sculpture from the University of Connecticut, Storrs, Conn. and his BS in Studio Art Sculpture from Southern Connecticut State University, New Haven, Conn.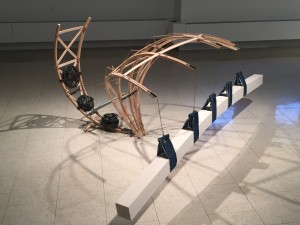 ARTS AND HUMANITIES

See the
Norfolk Commission on the Arts and Humanities 
(for the 29 organizations currently funded).