Imagine 5 Points outdoor gallery exhibiting artist 2018
2022 Norfolk Arts, Adams Outdoor Advertising Norfolk Billboard artist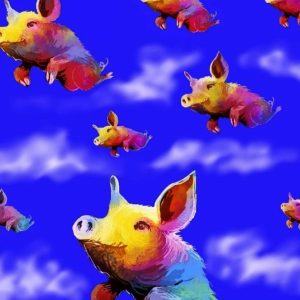 An award-winning advertising art and creative director, David earned a BFA in Communication Art and Design from Virginia Commonwealth University. He began his career as a graphic designer in the Atlanta design and illustration studio, GraphicsGroup and Whistl'n Dixie.
A devoted Mac fan, David works on the Apple iPad Pro using the Procreate app creating hand drawn original signed and numbered Limited Edition prints and canvas paintings. Over the years, he has participated in numerous art shows and festivals throughout the area and has public art in Norfolk and Virginia Beach. David was the featured artist for the 2018 Boardwalk Art Show for his poster painting, "A Spot In The Universe." The poster won Gold and Silver 2019 Awards from Hermes Creative, Graphis and MarCom. For 2020 Graphis awarded Gold for posters "DuckDuck Samuari Goose" and a Silver for "Big Man Clarence". Currently has public works in the ViBe District in Virginia Beach.
With his recent interest in clay, David has created several series of hand-built ceramic pieces. His 8″work "Ocean Rose" won a Honorable Mention Award at the Artist Gallery's 2020 August show, Less Is More.
David lives in Virginia Beach with his wife Jennifer. He is an Exhibiting Artist at the Artist Gallery in Virginia Beach.