Imagine 5 Points outdoor exhibiting artist 2018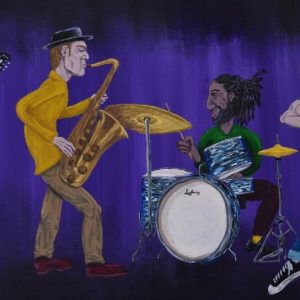 Virginia Beach based artist rendering images with paint, canvas, ink, and paper–pop surrealism, lobrow, monochromatic portraits and single line drawings.
I believe that it is in every person's best interest to pursue and exercise their creativity, and to experiment with as many different vehicles as possible. Doing so has a humanizing effect on the individual; it can simultaneously broaden one's humility and self-worth, as well as their world view and appreciation for "the other".
By experimenting we discover things about ourselves: good and bad, strengths and weaknesses, interests and passions. We figure out the means of creation that really allow us to express ourselves. Ultimately we learn to engage our own minds, freeing us from our dependence on pre-packaged entertainment, i.e. television "reality shows".
In my life the creative process has helped me get through depression and self-esteem issues. I've tried drawing, writing, and music before picking up a paintbrush at 46. Acrylic painting has become my passion, although I'm also an active bassist.
The term "self taught" is somewhat of a misnomer; while I have no formal training in my pursuits, I don't live in a bubble. I am an acute observer and a visual learner. I guess I can say that I'm self taught in the art of self learning. I definitely consider myself a "student for life"