Offsite Gallery exhibiting artist: "Phenomena" a joint exhibit with Daniel Goodwin – December 4, 2015 – January 15, 2016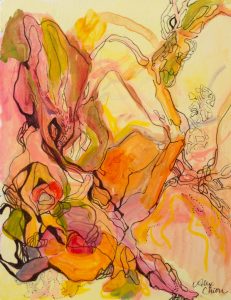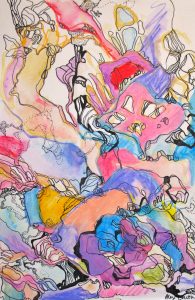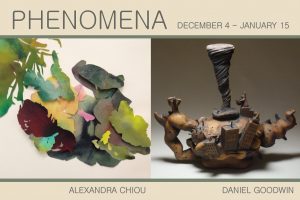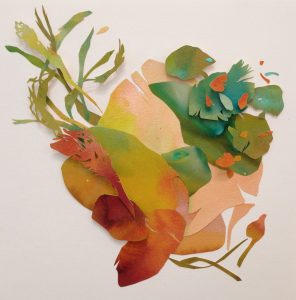 Artist Statement
As an avid explorer and outdoor enthusiast, I have always been struck by the inexplicable beauty of the natural world. Whether hiking in the mountains of the Shenandoah or the jungles of Malaysia, I am continually intrigued by the complex patterns, shapes and vibrant colors of the surrounding flora and fauna. Every time I take in a grand vista looking down from the mountains, I appreciate the sense that there is something out there much larger than ourselves and am reminded that the world existed long before we came to be. Initially, I was drawn to the idea of primordial landscapes free of manmade structures. Over time, my interest in unexplored terrains has morphed into a fascination with the beginnings of life, and the connections we humans share with our surrounding geography—for instance, the parallel between rivers and the blood that flows through our veins, and the cave as a womb. In terms of process and medium, I began as an oil painter creating large scale paintings with vibrant colors. Over time, I wanted to achieve greater transparency and airiness in my work, and moved towards pen, ink and acrylic paint. Most recently, I have incorporated layered cut paper into my work, adding new textures and more dimension to my pieces. I have also created several layered non-rectilinear works on paper, further accentuating my interest in the organic and my desire to meld the spheres of painting and sculpture. Ultimately, I plan to continue developing my interest in science, philosophy and natural history to further investigate this idea of the human body as a habitant and environment in itself.
Artist Bio
Alexandra Chiou is a visual artist inspired by the natural world and the linkages we share with our surrounding environment. She graduated from the University of Virginia in 2011 where she double majored in Studio Art and Commerce. Her work has been exhibited in a number of galleries across Virginia, Maryland, and Washington, DC including Hillyer Art Space, the Mansion at Strathmore and the American University Museum. Her work has also been featured in The Washingtonian and the CBS 6 Virginia This Morning show. Most recently, she completed a Strathmore Fine Artist-in-Residence program in Bethesda, Maryland and currently resides in the DC area.