Offsite Gallery: "Phenomena" a joint exhibition with Alexandra Chiou – December 4, 2015 – January 15, 2016
Watch a movie of the event.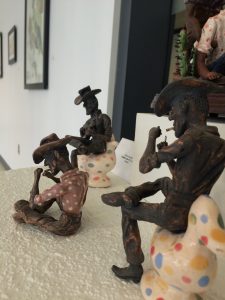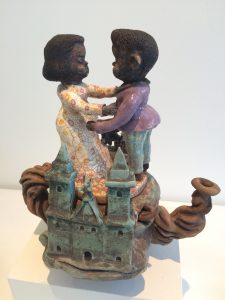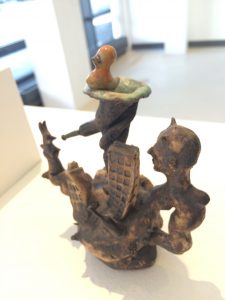 Daniel Goodwin is a painter and sculptor living in Virginia. He was born in Philadelphia Pa, but grew up in Rochester NY, where he began to sculpt seriously in high school, participating in local outdoor shows.He attended Alfred University, graduated in 1993, and immediately moved to New York City.
After stints back in Rochester and Philadelphia, Daniel eventually moved to Norfolk, VA, where he found some commercial success after he joined the Tidewater Artist Alliance and began to show his work for the first time in years.
Goodwin's style leans towards the figurative, verging on the surreal, drawing from a wide range of influences, including myth, popular culture, and his own stream of consciousness. Daniels work follows the tradition of naive, Outsider art. Goodwin has worked on a series of collaborative pieces and has exhibited with Japanese artist Akiko Tanaka. (Source: Alt Daily article Nov. 2009)
Goodwin is pictured with Akiko Tanaka and Larry Pernell Johnson, a Norfolk based sculptor.