Offsite Gallery 2017 "Gertrude's Art Exhibition" curated by Jean Peacock
Scene At the Selden featured artist 2014
"The natural world has fascinated me from an early age. I studied Biology in College, focusing on ecology and conservation. Further studies in Fine Art have reflected that interest. I initially thought I would be a botanical illustrator, however after being introduced to various artists and artworks, I adopted a more expressive style. My artwork is a reflection of my passion for the environment with all its power, beauty and grace. Humans and nature are so intertwined; they impact each other significantly. Color is a strong component of my art. The vibrant palette makes the work more dynamic and exciting.
I continually explore the environment and the force it has on the flora and fauna of the world. Hiking and photographing aid in researching images to find a truthful visual expression."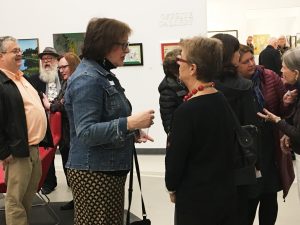 (Hand colored dry point)
(Hand colored dry point)