Offsite Gallery 2018 "Gertrude's Group Art Exhibition"
Offsite Gallery 2021 "Breaking Ground" a joint exhibition with Madison Mickler through December 3, 2021
A belief in the transformative, healing power of art infuses Eloise Shelton-Mayo's work. Best known for encaustic and now, oil & cold wax, the covering and uncovering with layers of paint and other materials, invites the viewer to delve and discover the textures and nuances in a piece. The expressive line and shape that often defines her work, speaks to the random joy and energy of a moment.
Shelton-Mayo creates abstract paintings & collage with an overarching theme of home, transition, loss & redemption for her 2021 exhibition Break Ground. Attracted to worn fragments of the natural world, architecture with its history & how memories punctuate moments, collages often represent physical landscapes, focusing primarily on the mystery & mining of psychological terrain.
Eloise was born in the UK, lived in Germany and throughout the U.S. as an Air Force 'brat'. She received her Bachelors of Arts degree in English from UNC Wilmington and worked as an Ad Designer for the Raleigh News & Observer. She discovered a passion for painting studying with Corinne Lilyard-Mitchell at the Visual Arts Center while completing her studio arts degree. She has continued to study with professional contemporary artists. Eloise is a former art adjunct for TCC and leads numerous painting workshops in the area. Her work is part of private collections and the permanent collection of Tidewater Community College.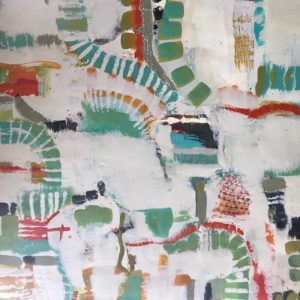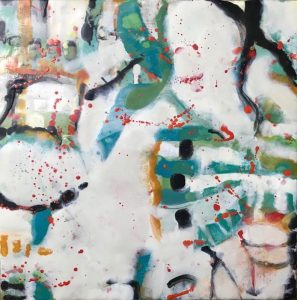 \