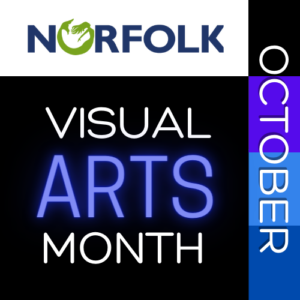 We'll be posting Visual Art events all month long on social and doing our best to keep this calendar populated!
Look here to find the over 100 ways to experience visual arts in Norfolk, Va every day!
It is with good reason, Norfolk, VA is the cultural capital of the region!
The 8th annual Norfolk Visual Arts Month begins October 1, 2021. Visual Arts Month is a celebration of the abundance of ways to experience visual arts in Norfolk, VA and the power the arts have to make a difference. Throughout Visual Arts Month, residents and visitors are encouraged to celebrate the over 100 organizations and establishments bringing visual arts to the forefront in Norfolk, VA every day.
The month kicks off October 1, 3pm at Willard Model Elementary School as Norfolk Arts begins their Poetry on the Pavement Project. A poem by former Willard Elementary School student, Shaaron Hernandez Chamul Casey, painted onto the pavement in front of the school will be the first to be unveiled. Norfolk Arts will continue the project throughout the month painting 25 short poems by 20 poets who live, work or attend school in Norfolk, VA numerous times in various locations throughout the city.
Poets were selected by a committee lead by Luisa Igloria, Poet Laureate of Virginia. Luisa states, "In this time of isolation and anxiety, we're seeing a renewed attention to the power of language to connect and support us. I'm so pleased to be part of the Poetry on the Pavement project through Norfolk Arts – where we invited Norfolk residents of all ages to give voice in poetry to what it's like to live in this particular place and in this particular time."