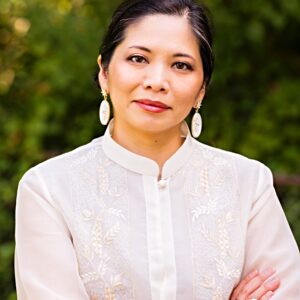 Rowena Finn's solo exhibition opening reception at the Offsite Gallery 12/02, 5-7pm "Foreign Bodies"
Foreign Bodies
A solo exhibition by Rowena Finn
Wikipedia defines a foreign body as "any object originating outside the body of an organism; in machinery, it can mean any unwanted intruding object." As the daughter of immigrants who came to the United States before she was born, she has seen all her life how she's perceived as a foreigner when she visits her "homeland" of the Philippines, and she has even been perceived as a foreigner here in America where she was born and raised.
By combining indigenous Filipino materials such as piña cloth, sinamay, and capiz shells with the paint and mixed media materials she's used for decades, Finn explores her experiences as a Filipina-American, unearthing the generational scars of colonization and assimilation, and existing as a visual artist in a community that doesn't always understand or value this work. The tactile nature of the materials enables both Finn and viewers to meditate on the intricate push and pull between heritage and identity, and the complex dynamics of acceptance and rejection within the tapestry of our cultures and communities. Her heavily textured works give a voice to the nuanced stories of those who find themselves caught between cultures and trying to make sense of both the need to belong and the need to be authentic.
Finn's artwork invites the viewer to explore the ever-shifting boundaries of culture and the profound impact of acceptance and rejection on one's sense of self. It is a reminder that while cultural clashes may challenge our identity and belonging, they also give rise to new forms of expression, resilience, and empowerment. Through her work, she hopes to inspire dialogues about the complex weavings of heritage, identity, and self-determination, and the enduring power of cultural narratives in shaping our lives and our sense of belonging within a diverse and evolving world.